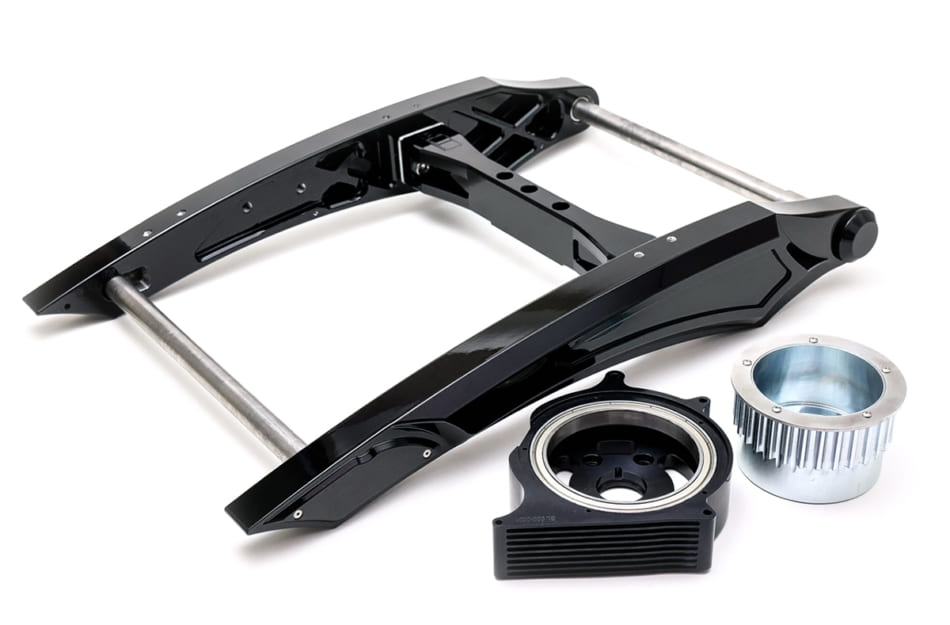 [ BL STYLER ] : 3D Billet Swing Arm
Our own parts brand called [ BL STYLER ] released 3D Swing arm kit for specialized V-ROD. High quality, High precision and High design frequently use that complex 3 dimentional curves. It's the advanced swing arm for V-ROD. It's fit to be  "BL STYLER" incredible. This kit made by 6061 aluminium. 6061 is strength, flexibility and excellent corrosion resistant to have.
Also we succeeded  20-30% cost reduction compared to similar Germanity products. Offering higher quality "Swing arm kit" wth  "BL STYLER" policy's at more reasonable prices to the V-ROD owners.
Products Line up : 300 tire and 260 tire's kit
We prepared 2 type of kit this time. 1 for 300 size and ~260 normal size.
Up to 300 size ; 3D WIDE Swing arm : Include / 3D Wide Swingarm, 55mm Off-Set Pulley, Bearing Support Plate
Up to 260 normal size : 3D Swingarm
We dedicated "BL STYLER" V-ROD original swing arm page on our web site. Please check the link below for more details and if you have any concern and questions, please feel free to contact us.
BAD LAND Tel: +81 44-587-3139
e-mail : ww@badland.net
▶︎ [ BL STYLER ] : V-ROD 3D Wide Swingarm Kit / Up to 300 size
▶︎ [ BL STYLER ] : V-ROD 3D Swingarm / Up to 260 normal size